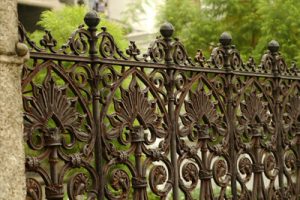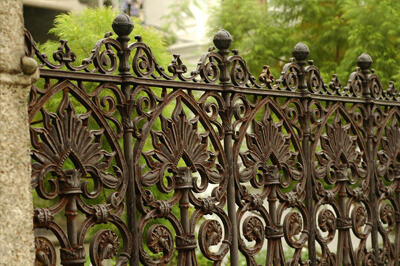 When looking for your property fence to bring more aesthetic than practical results, choosing the expertise of Concord Fence Installation and Repair will provide you with the means to beautify your property through quality ornamental work while still delivering the reliability that many of our standard fencing options provide. Our fence contractors have the ability to fulfill a multitude of needs for your property and ensure that you get the highest quality results no matter the style or design of the fence installation you need.
Wrought Iron
One of the most common fencing options that also provides you with unparalleled strength is that of wrought iron. This particular material choice has been used for properties of all types across the Concord area and give your surroundings that gothic look that's difficult to replicate with other material choices. When looking for a wrought iron installation for your property, ensuring that you're getting the assistance of experienced professionals who have worked with this material before is important and Concord Fence Installation and Repair brings you the results you seek with a beautiful and strong fence installation.
Top Rail Design
Sometimes the best ornamental additions to your fencing are the small touches. When looking to bring a little more than just a vertical or horizontal fence design to your wood fencing, a top rail design can give you that extra little touch you need for a personalized and unique finish. No matter the particular options you're looking for when it comes to the overall aesthetic of your property fence, leaning on the expertise of Concord Fence Installation and Repair professionals will provide you with beauty. When you need both strength and charm, you can depend on our experts to deliver.
Aesthetic Fencing
There are some fence installations sought by our clients that aren't intended to provide anything other than an aesthetic addition to the property. Whether looking for a low-rise fence that surrounds your garden or a half-sized picket fence for your property with the sole intention of completing the look, you can depend on Concord Fence Installation and Repair. We are here to bring you the quality results you're looking for no matter your intention. From wood fencing to metal fencing and beyond, you can be sure that we provide you with the wealth of options you need for the perfect installation.
Lattice Fencing
Another possibility that has grown in popularity across the Concord are is that of lattice fencing. Typically made of woods such as cedar, this particular design brings you a unique look while ensuring that even a decorative fence has the means to stand up to the wear and tear of constantly being exposed to the weather of Concord. Whatever the fence design you choose to obtain for your residential or commercial property, putting your trust in the experience that Concord Fence Installation and Repair brings to your needs will ensure that you get a beautiful and dependable installation that fulfills your aesthetic requirements.